Print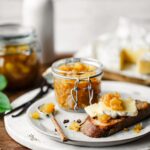 Apple-Chutney with Onions and Vanilla
---
800 g apples

2 tbsp lemon juice

3 onions

1 piece of ginger (3 cm)

1 Taylor & Colledge Vanilla Pod

200 ml white wine vinegar

200 g jam sugar

1 pinch of pepper

1 tsp mustard seeds
---
Instructions
Step 1: Peel the apples, remove the core and chop apples into small cubes. Drizzle with lemon juice.
Step 2: Peel and finely chop ginger and onions. Split the vanilla pod with a knife and scrape out the seeds. Combine apples, onions, ginger, vanilla seeds and pod in a medium saucepan.
Step 3: Add the white wine vinegar, pepper and mustard seeds and boil over a medium heat until the apples are soft, about 10-15 minutes.
Step 4: Stir in the jam sugar and boil over a high heat for 2 minutes.
Step 5: Pour the hot apple chutney into sterilized jars. Seal and leave to cool to room temperature.
Step 6: Serve with cheese and bread or store the chutney in the refrigerator up to 6 months.
Prep Time:

35 min.

Resting Time:

25 min.