Print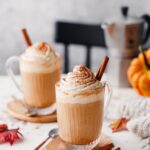 PUMPKIN SPICE VANILLA LATTE
---
800 ml almond milk (or other milk)

4 tbsp pumpkin puree (see tip below)

2 tsp pumpkin spice (see tip below)

4 tbsp maple syrup

2 tbsp Taylor & Colledge Vanilla Extract

160 ml espresso or strong coffee (freshly brewed)

250 ml whipping cream (min. 30% fat)

4 cinnamon sticks
---
Instructions
Step 1: To prepare our delicious pumpkin spice vanilla latte pour the milk in a small saucepan. Bring to a simmer, then add pumpkin puree, pumpkin spice, maple syrup and vanilla extract.
Step 2: Whisk until smooth.
Step 3: Then add the espresso.
Step 4: To serve our pumpkin spice vanilla latte, top with whipped cream, a cinnamon stick and a pinch of pumpkin spice.
Tip Pumpkin Puree:
To make pumpkin puree, cut a small Hokkaido pumpkin in wedges, remove the seeds and bake the pumpkin at 200 °C / 180 °C fan/ gas mark 6 until soft (about 30 – 45 minutes, depending on the size). Let cool and place in a food processor. Puree until smooth. Use immediately or refrigerate in an airtight container up to 4 days.
Tip Pumpkin Spice:
To make pumpkin spice combine 3 tablespoons ground cinnamon, 2 teaspoons ground ginger, 2 teaspoons ground nutmeg and 1 teaspoon ground cloves. Store in an airtight container until ready to use.