Print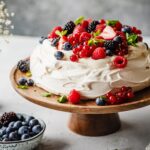 VANILLA PAVLOVA WITH VANILLA CREAM AND BERRIES
---
MERINGUE
4 medium egg whites (room temperature)

1 pinch of salt

200 g caster sugar

1 tsp vinegar

2 tsp cornstarch

TOPPING
250 ml whipping cream

2 tbsp Taylor & Colledge Vanilla Extract

50 g raspberries

70 g red currants

50 g blackberries

100 g blueberries

70 g strawberries

Fresh mint
---
Instructions
Step 1: For your vanilla pavlova with vanilla cream and berries, preheat oven to 180°C/160°C fan/Gas mark 4. Place a sheet of baking paper on a baking tray. Draw a 23-cm circle on the paper and turn over.
Step 2: Whisk the egg whites with a pinch of salt in a large bowl or stand mixer on high speed until stiff peaks form.
Step 3: With the mixer on medium speed, slowly add the sugar, one spoonful at a time and beat until stiff, shiny peaks form.
Step 4: Then fold in the cornstarch and vinegar with a rubber spatula.
Step 5: Pile the meringue on the circle on the baking paper and use a palette knife to smooth out to fill the circle. Place in the oven and turn down the heat to 100°C/80°C/Gas mark 1/4.
Step 6: Bake for 60 – 70 minutes, then turn off the heat. Keep the door closed and allow the pavlova to cool for about 30 minutes in the oven. Once cooled, carefully place the pavlova on a cake stand.
Step 7: Whip the cream with the vanilla extract until soft peaks form. Top the pavlova with the whipped cream and sprinkle over the berries and fresh mint. We recommend to top your pavlova just before serving to keep the meringue nice a crisp.
Prep Time:

15 min.

Resting Time:

30 min.

Cook Time:

60 min.