Print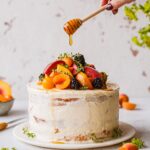 VANILLA SPONGE CAKE
---
SPONGE
220 g caster sugar

115 g unsalted butter, room temperature

3 tsp Taylor & Colledge Vanilla Extract

3 tsp canola oil

4 large eggs, medium

300 g plain flour

2 ½ tsp baking powder

250 ml whole milk

1 pinch of salt

FRUIT COMPONENT
400 g mixed stone fruit (peaches, apricots)

100 ml white wine

3 tbsp honey

1 tbsp Taylor & Colledge Vanilla Paste

VANILLA CREAM
800 g cream cheese, full fat

250 ml whipping cream (min. 30 % fat)

150 g icing sugar

2 tbsp Taylor & Colledge Vanilla Paste

4 gelatin leaves

DECORATION
fresh blackberries, stone fruit, thyme
---
Instructions
Step 1: Let's prepare our lovely vanilla sponge cake. Preheat oven to 180°C / 160°C fan/ gas mark 4.
Step 2: Lightly grease and flour three 20 cm cake tins. Line the bases with parchment paper.
Step 3: To make the sponge, beat the butter and sugar on medium speed in the bowl of a stand mixer until light and fluffy. Slowly add the oil and vanilla extract. Add eggs, one at a time.
Step 4: In a medium bowl combine flour, baking powder and salt.
Step 5: With mixer on low speed, gradually add flour mixture to the butter mixture alternately with the whole milk beginning and ending with flour mixture, beating until just combined.
Step 6: Pour the mixture in the prepared tins and bake for about 25-30 minutes, until a cocktail stick inserted in center comes out clean. Remove from tins and leave to cool completely.
Step 7: For the compote, cut the fruit in small chunks. In a saucepan toss together the fruit, white wine, honey and vanilla paste. Heat over medium heat until the wine has evaporated then set aside to cool completely.
Step 8: Soften the gelatin leaves in cold water for about 5 minutes. To make the vanilla cream, whisk cream cheese, vanilla paste and icing sugar until light and fluffy.
Step 9: Add 3 tbsp of whipping cream to a small saucepan and bring to medium heat.
Step 10: Squeeze the water from softened gelatin leaves, then place in the warm cream and stir until dissolved. Pour the mixture into the cream cheese and immediately mix everything together.
Step 11: In another bowl, whisk the remaining whipping cream until stiff. Fold into cream cheese mixture using a spatula until combined.
Step 12: Place 1 cake layer on a serving plate or board. Add 2-3 tbsp of fruit compote. Scoop about 1/3 of vanilla cream on top and spread evenly with a spatula or palette knife.
Step 13: Top with a second cake layer, add 2-3 tbsp fruit compote and 1/3 of vanilla cream.
Step 14: Top with remaining cake layer. Spread a layer of vanilla cream on the top and sides of the cake. Using a spatula to smooth sides of cake. Refrigerate until ready to serve.
Step 15: Decorate your vanilla sponge cake with fresh fruit.
Prep Time:

45 min.

Cook Time:

30 min.