Print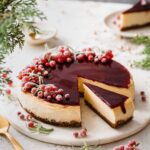 CHRISTMAS CHEESECAKE
---
CRUST
200 g lotus Biscoff biscuits

80 g unsalted butter, melted

FILLING
900 g cream cheese, full fat

200 g sour cream

2 tbsp Taylor & Colledge Vanilla Extract

200 g caster sugar

4 eggs, medium

2 tbsp corn flour

GLAZE
250 ml mulled wine

50 g caster sugar

4 gelatin leaves

DECORATION
rosemary, pomegranate seeds
---
Instructions
Step 1: At first, to start with our festive christmas cheesecake, bring all ingredients to room temperature.
Step 2: Prepare the tin: Line the base of a 24 cm springform cake tin with baking paper and cover the outside with a layer of clingfilm, followed by a triple layer of extra-strong foil to make sure no water can get inside during baking.
Step 3: Preheat the oven to 170°C (fan not recommended)/ gas mark 3, and prepare a water bath by pouring water in a large high-sided roasting pan, about two fingers high.
Step 4: Blitz the biscuits in a food processor to fine crumbs or put in a sandwich bag and break up with a rolling pin. Add the melted butter and pulse to combine. Press evenly into the base of the tin and chill in the fridge.
Step 5: Add the cream cheese, sour cream, vanilla extract and sugar to a large mixing bowl or your stand mixer and whisk until completely combined. Add the eggs, one by one, whisking after each addition. Finally fold in the corn flour.
Step 6: Spread the filling over the biscuit base and bake for 75 minutes.
Step 7: Once baked, turn off the oven and open the oven door a jar. Let the cheesecake cool for an hour before removing it from the oven, this helps to avoid cracks in the top of the cheesecake.
Step 8: Carefully remove the cheesecake from the oven and chill in the refrigerator for a minimum of 4 hours or overnight.
Step 9: Soften the gelatin leaves in cold water for about 5 minutes.
Step 10: To prepare the glaze, add the mulled wine and sugar to a small saucepan over a medium heat, stir until the sugar has dissolved. Squeeze the water from softened gelatin leaves then place in wine mixture and stir until dissolved.
Step 11: Leave to cool until the glaze starts to thicken. Then quickly spread the glaze over the cheesecake and place back in the fridge to set.
Step 12: When you are ready to serve, remove the cheesecake from the tin, run a hot palette knife around the edge of the cheesecake and remove. Place on a serving plate or board.
Step 13: Decorate our christmas cheesecake with rosemary and pomegranate seeds.
Store in the refrigerator up to 4 days.
Prep Time:

25 min.

Cooling:

240

Cook Time:

75 min.