Print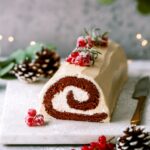 YULE LOG
---
CHOCOLATE SPONGE
4 eggs, medium

1 tbsp Taylor & Colledge Vanilla Extract

125 g caster sugar

1 pinch of salt

100 g plain flour

20 g cocoa powder

Icing sugar

FILLING
170 ml whipping cream (min. 30% fat)

500 g mascarpone cheese

1 tbsp Taylor & Colledge Vanilla Extract

1 tsp orange zest

20 g icing sugar

DECORATION
200 g white chocolate

100 g whipping cream (min. 30% fat)

1 tbsp Taylor & Colledge Vanilla Paste
---
Instructions
Step 1: Preheat the oven to 180°C/160°C fan/ gas mark 4. Line a baking tin with parchment paper.
Step 2: Separate the eggs. Place the egg whites into the bowl of a stand mixer. Whisk on high speed for about 2 to 3 minutes until soft peaks form. Set aside.
Step 3: In a large mixing bowl, whisk the vanilla, egg yolks and sugar together until pale yellow. In a second bowl, sift the cocoa powder, flour and salt together. Add the dry ingredients to the egg yolk mixture and whisk to combine.
Step 4: Add half the egg whites and use a rubber spatula to gently fold the whites into the batter. Then add the remaining egg whites and gently fold in.
Step 5: Pour the batter into the prepared tin using a spatula to smooth out the batter into a rectangle, about 1cm thick. Bake the sponge for 8 to 10 minutes until surface is springs back when you gently press.
Step 6: Let the sponge cool for 2 minutes. Dust the sponge with icing sugar using a sieve. Place a clean kitchen towel onto the sponge and place a wire rack on top and then flip over the sponge and rack.
Step 7: Gently peel off parchment paper and dust this side of the cake with icing sugar. Starting at one long side, carefully roll up sponge and towel together, place seam side down on the wire rack and leave to cool completely.
Step 8: For the filling beat the cream in a large bowl until soft peaks form. In another bowl, beat the mascarpone, vanilla extract, orange zest and icing sugar until combined. Finally fold the whipped cream into the mascarpone mixture and set aside.
Step 9: Carefully unroll the sponge. Spread with filling over the top, leaving a 1.5 cm border around the edge. Reroll the sponge without towel and place seam side down on a serving platter. Refrigerate for 2 hours.
Step 10: Roughly chop the white chocolate. Add the cream, vanilla paste and chocolate to a heatproof bowl and place over a pan of simmering water, make sure the water doesn't touch the bowl. Let the chocolate melt, stirring continuously.
Step 11: Spread the ganache evenly all over the yule log and refrigerate for 20 minutes.
Step 12: Use a fork to create textured lines in the ganache to look like a tree-like bark.
Step 13: Trim 1 cm off each end of the Yule log to create clean edges and decorate with white chocolate shavings. Refrigerate until ready to serve, up to up to 3 days loosely covered with foil.
Prep Time:

50 min.

Cooling:

140 min.

Cook Time:

10 min.